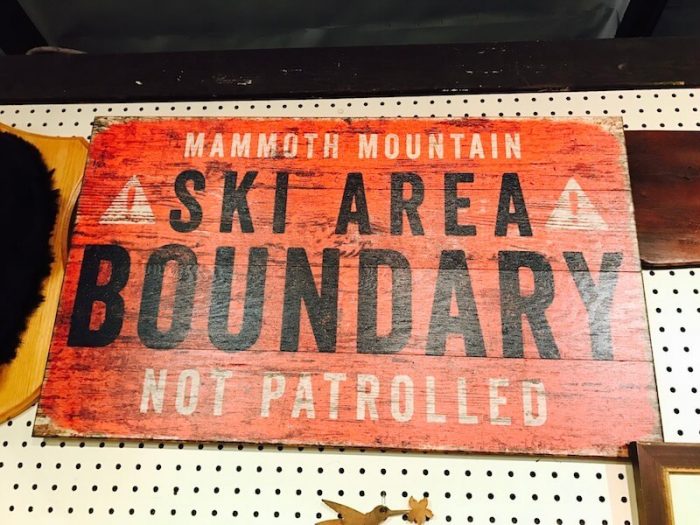 November 4, 2022 5:35 pm
We love serving Southern California at our Paramount location, but what truly sets us apart is our service to the Mammoth Lakes region as well! Nestled deep in the Sierra Nevadas with Mammoth Mountain and Yosemite National Park as neighbors, we know that Mammoth Lakes is a destination all year round, but most notably during the winter! Locals and visitors alike pack their winter gear and head to the mountainous region for skiing, sledding, snowshoe hiking, and more. If you love Mammoth Lakes, no matter where you live, and want to pay homage to the iconic landmark with your own home furnishings, find just what you need at Paramount!
Big & Bold Signage
Our wide selection of decor definitely pays tribute to the love of the outdoors at Mammoth Lakes, highlighting the destination's popularity for skiing, winter, and bear sightings! To make the artwork special and singular to Mammoth Lakes, a lot of the pieces you'll find at Paramount are made of metal and resemble signage. Big and bold options like these bring the illusion of outdoor terrain inside your home and add some personality to the space, too!
Vibrant, Colorful Artwork
We just mentioned bringing personality into your space, and our collection of unique wooden artwork will do just that! Whether you love the Mammoth area for its snow or its fishing, there is definitely something for everybody to match your own style and existing furnishings. Our wall art selection brings the essence of Mammoth Lakes right into your home!
Repurposed & One of a Kind!
Here at Paramount, don't be surprised to find a repurposed license plate or two, appreciating California and your love for Mammoth Lakes! Unfortunately, these can't replace the plates on your car. Nevertheless, they will definitely add a special flair inside your cabin or mountain home!

Find your next Mammoth Lakes decor piece with us at Paramount Furniture, serving Southern California and Mammoth Lakes!

Tags: art, blog, decor, furnishing, mammoth, mammoth lakes, paramount furniture


Categorised in: Uncategorized

This post was written by admin